STORIES FROM THE FIELD: INVESTING IN FARMER INGENUITY
When your product is in more stores than there are people in town, you know you're doing something right. Clay Oliver and his family are from the small town of Pitts, Georgia, but the artisan, cold-pressed oils they produce as Oliver Oil Company are found in kitchens across the country. The Oliver family's creativity and hard work, along with some support from the U.S. Department of Agriculture's (USDA) Value-Added Producer Grant (VAPG), enabled Oliver Oil Company to grow into the successful business it is today.
Value-Added Producer Grants
VAPG provides funds to stimulate small business development and drive economic growth in rural communities. Like Clay, farmers across the country apply for VAPG in order to fund their business and marketing plans, feasibility studies, or acquire working capital for their value-added business venture. In helping farmers to diversify and add value to their businesses, VAPG provides farmers with a way to better secure their livelihoods, as well as to stimulate economic development in their surrounding communities.
Feeding the entrepreneurial spirit
Clay Oliver and his brother run a multi-generational, centennial farm – meaning it has been in their family for over 100 years. For most of those years Clay's family made a living growing commodity crops. However, after dealing with economic uncertainty created by the 2008 recession, volatile commodity prices, drought, and the passing of Clay's Dad, Clay's family decided that they needed to diversify the family farm.
Click here to read the full article on the NSAC website
Oliver Farm Good Food Awards 2017
"When Clay Oliver and his siblings took over his family's farm in Pitts, Georgia, in 2008, he never suspected that he'd soon be the inventor of the next hot trend in Southern gastronomy. But when his father's death that spring coincided with high fuel prices, he inherited new responsibilities and worries, and started looking at new ideas to increase the farm's profits and relevance."
Oliver Farm Artisan Oils featured on Grow
On this episode of Grow, AIB visits Oliver Farm to learn about cold pressed artisan oils.
---
Hatched From Peanuts, the South's Hot New Oil
PITTS, Ga. — There may be more improbable culinary trails than the one that leads from a red clay road here in the country's most prolific peanut-growing state to Beyoncé's plate at the Hotel Bel-Air in Los Angeles. But as zero-to-hero food tales go, this is a good one.
The star of the story is cold-pressed green peanut oil, which some of the best cooks in the South have come to think of as their local answer to extra-virgin olive oil.
Click here to read the full article on NYTimes.com
---
Made in Georgia: Oliver Farm pressing Georgia fresh oils

It all started with sunflowers.
Clay Oliver grew up in Pitts, near Cordele in Wilcox County, on his family farm, recognized by Georgia as a Centennial Farm, owned by the same family for 100 years or more. At the farm they grow row crops such as cotton and peanuts and produce grass fed beef.
But four years ago, Oliver added one more product to the farm's offerings – culinary oils. He started with sunflowers, pressing seed from the sunflowers grown on the farm. Now he also makes cold-pressed peanut, benne, pumpkin and pecan oils.
"For a while I was thinking about getting into biofuel in some small way. We could at least provide our own source of energy for the farm. Our county extension agent introduced me to so many people and along the way several led me to the concept of making food grade oil. One of the things that's appealing is knowing what happens to what you raise. With our regular crops we don't know what happens to it after it leaves our hands," said Oliver.
<<Read about more must-have Made in Georgia products
After three years of research, Oliver bought an oil press and began making cold pressed, unrefined oils.
"Cold pressing leaves so much more flavor and instead of all the oil being one color like what you see at the grocery store, these are the natural colors of the seeds and nuts. And the cold press retains all the health benefits of the seeds and nuts," he said.
The peanut oil comes from inspected local peanuts so there's no fear of contamination. The pecan oil is made from the farm's own pecan crop supplemented with pecans from neighboring farms. The benne seed oil is extracted from heirloom Sea Island sesame seeds grown by Anson Mills in South Carolina.
Oliver is justifiably proud of the accolades given his oils. In 2015, the California-based Good Food Foundation put Oliver Farm on the map by putting their pecan oil in the company of nationally recognized food purveyors such as Blackberry Farm and Vermont Creamery. The farm's green peanut oil won in 2016.
In November 2015, Garden & Gun magazine named Oliver Farm in their Sixth Annual Made in the South Awards and the exposure there has continued to bring the farm wholesale customers and retail clients.
"The bulk of our business is selling to wholesale buyers. But the farmers markets and events we attend create cash flow and help put a face on our products. We can let people sample them and talk about what we do."
Oliver credits Don Cooper of Cooper Ag Service in Atlanta for writing a grant that helps him pay for the expenses of attending a weekly farmers market. "We wanted to expand our markets and the grant helps me cover the cost of market workers and things like that. We do four markets each month: the Way Green Local Fare Market in Waycross, the Peachtree Road and Freedom farmers markets in Atlanta and the Wiregrass Market in Tifton. We'd like to expand to other markets and we're looking to find people who want to do this kind of work."
He's also grateful for community-supported agriculture programs like Global Growers who include the farm's products in their boxes, and for John Short of Georgia Proud Provisions who includes the farm's pecan oil and pecan flour in offerings at local farmers markets.
But his biggest thanks go to his wife, Valerie. "She left her job in the Wilcox County school system of 17 years to help me full time last summer. That was one of my early goals for the business. She runs the office and bottles all of the oil as well as working markets. There is no way that I could handle all of this without her support and help."
Speaking of that pecan flour, it's a clever use of the by-product of pressing all that pecan oil. "Once we press out the oil, we're able to get what's left really dry and turn it into a fine flour. It retains all the antioxidant qualities of pecans so you get the health benefits as well as great flavor.
Chrysta Poulos, Creative Director of Pastry for Ford Fry Restaurants, is a fan. "Chef Craig Richards at St. Cecilia had been wanting a Linzer Tart on the menu for quite some time, but I wanted to make it Southern somehow. Holly Chute came in for lunch one day at King + Duke and brought me some samples of the Oliver Farm Pecan flour, as well as their Pecan Oil, as a gift. When I was testing recipes for this seasonal Linzer Tart for St. Cecilia, it hit me… I would use the pecan flour in place of the ground hazelnuts in the recipe and see how it comes out… And it was delicious! The texture was great, with a sweet, earthy, nutty flavor of pecans… a great compliment to the fig filling and sweet & spicy ice cream. Currently at St. Cecilia, you can find the Fig 'Linzer' Tart with White Chocolate-White Pepper Ice Cream, Oliver Farms Pecan Oil, and Balsamic. The Pecan Oil is super clean and does not linger. With the balsamic and figs, it just worked for the dish, giving an extra layer of pecan flavor without overpowering the other components. And the pecan flour has been great to work with and I can't wait to find other recipes to try it out in."
In the Atlanta area, Oliver Farm products can be found at Preserving Place, The Cook's Warehouse and Strippaggio as well as dozens of locations around the state and the farm's four local farmers markets. Everything is also available for purchase at http://oliverfarm.com/.
---
Great Features - Thanks WMAZ & Suzanne Lawler!

Sixth Annual Made in the South Awards

(Photo by Tara Donne)
Food Category Winner: Oliver Farm
Clay Oliver's straight-from-the-farm cooking oils are an eye-opener
Oliver Farm
Product: Artisan oils
Made in: Pitts, GA
Est.: 2013
"Let's just say, I wasn't a foodie before this," says Clay Oliver, a Georgia farmer who was looking for a new source of income during the recession. It had been a good year for his sunflowers, so he bought a press and tried his hand at making oil. It turned out so well that he began experimenting with the pecans and peanuts he also grows on the generations-old farm where he grew up. "Most people don't realize that the cheap peanut oil you buy at the store comes from the damaged and diseased crop," he says. "The flavor of oil made with quality nuts can be a revelation." Just two years after he first sent out samples, you'll now find his oils at some of the best restaurants in the country: Miller Union in Atlanta; Husk in Nashville and Charleston, South Carolina; Extra Fancy in Brooklyn. And he has earned a following among home cooks who swear by them for everything from frying fish to sautéing vegetables to finishing salads. But Oliver's number-one buyer is still his local grocery store: "Nothing makes me happier or more proud than my hometown supporting us."
---
Acclaimed Southern chefs including Sean Brock and Underbelly's Chris Shepherd have been expressing their love of benne oil for years now, and while they've used it in their restaurants, it hasn't been available commercially since the 19th century — until now. That change is thanks to Georgia farmer Clay Oliver, of Oliver Farm, who is commercially producing the iconic Southern oil, which has been described as more flavorful, aromatic, and grassier than sesame oil. (Makes sense: Benne, a seed, is a precursor to modern American sesame, which was bred with an emphasis on yield over flavor.) Curious cooks across the country will be happy to know that Oliver is shipping his eight-ounce bottles, which go for $20 a pop and are available through his website's store, nationwide.
Once the oil of the South, benne was displaced in the late 1800s by much cheaper cottonseed oil. The story of its return to the market actually involves a few major players in Southern food. Oliver first began producing the stuff for Brock's Husk and Shepherd's Underbelly, acquiring the seeds from Anson Mills. In July, Anson Mills' Glenn Roberts and Oliver began work on a "research project" inspired by the (presumably top-quality) first-run oil preferred by the South's wealthiest planters. This is what is now on the market: an unfiltered oil made without heat or pressure that has a "thin, tahini-like" layer at the top, sort of like a cream line. Roberts thinks it'd be fantastic for poaching quail, but it's a versatile ingredient. Thomas Jefferson liked to drizzle it over raw salads, while Shepherd has used it in bibimbap. Go crazy — it's been a while.
---
Historic benne oil returns thanks to an artisan oil producer in Georgia
Hanna Raskin Email @hannaraskin Sep 2 2015 12:01 am
John Morel in 1769 pronounced benne oil "equal in quality to (olive oil), and some say preferable," according to a quote included in University of South Carolina professor David Shields' new book "Southern Provisions: the Creation & Revival of a Cuisine." But because the flavor of benne was mutilated in the process of becoming American sesame, which involved reworking the African seed for greater yield, modern eaters have long had to take Morel's word for it.
But now, for perhaps the first time since the antebellum era, benne oil is being sold commercially. Oliver Farm, an artisan oil producer based in central Georgia, is offering eight-ounce bottles of the vaunted oil for $20.
"It has a really bright, peppery flavor," says Clay Oliver, who also makes pecan oil, pumpkin seed oil and almond oil, among other products. "At first, I wasn't sure about it, but the more we've used it, it has its own unique flavor. I also do sesame and there's a vast difference between them."
At a recent tasting convened by Post and Courier food section contributors Nathalie Dupree, Marion Sullivan and Deirdre Schipani, the consensus was that the oil is very appealing when sampled straight from the bottle, whether because of its distinctive lightness or grassy character. Oliver is more apt to use the oil for cooking: He likes it on carrots with ginger and honey, although he's also experimented with dipping chicken in it.
During benne oil's domestic heyday, white gourmands such as Thomas Jefferson drizzled it over raw vegetable salads. But it was ultimately displaced by cottonseed oil, developed as a way to wring value from a byproduct that wasn't previously considered fit for human consumption. Throughout the past century, benne oil has existed mainly as a culinary curiosity, sought out by only the most motivated chefs.
That group included Travis Grimes of Husk and Chris Shepherd of Underbelly in Houston, who a few years ago arranged for Oliver to produce toasted benne seed oil for their restaurants. Oliver had been in the oil business since 2008, when he started researching the possibility of making biofuel on his family farm and learned there was a market for food-grade oils.
"I realized it was something no one was doing, and once we tasted the first batch we made, I was hooked," he says. "We're a Georgia Centennial Farm, so farming's in my blood. And this still allows me to grow my sunflowers and my peanuts."
Anson Mills sold Oliver the benne, which in 2013 he transformed into untoasted benne oil at the request of Daniel Heinze of McCrady's. "The neat thing is it's as old as time what I'm doing," Oliver says. "We're using friction and pressure. There are some things that work for us to maximize oil extraction, and yet leave the great flavor there, and the freshness that people are wanting."
In June, Anson Mills supplied Oliver with another batch of benne for a research project, inspired by conjecture about what elite planters preferred in the 18th century. Since the plantation owners swapped first-run oil within their social circles, Oliver and Glenn Roberts of Anson Mills decided to try obtaining unfiltered oil from viable benne seeds — without using heat or pressure.
"It turned out better than we thought, and we don't know where we are with it yet," says Roberts, who's planning to send samples to hundreds of chefs. "It's got a flavor that knocks your socks off: We're thinking if you poach quail in it, it would be amazing."
Yet Roberts' interest in recipes pales compared to his interest in the thin, tahini-like substance that rose to the top of the oil. "It's extraordinary," he says. It's also confounding, because it doesn't match up with any antebellum documentation. Since Roberts and Shields mapped out the restoration of the crop system surrounding Carolina gold rice according to knowledge gleaned from contemporary letters, diaries and agricultural journals, the benne cream is an unexpected party guest.
Meanwhile, Oliver is trying to interest more restaurants in benne oil. "It's one of the coolest oils I make," he says, acknowledging it's also significantly more expensive than his other oils. "I love connecting the past to the present as much as I like selling oil."
Clay Oliver of Oliver Farms in Georgia has produced benne oil. Hanna Raskin/staff
---
Georgia Pecan Oil: Try Georgia Pecan Oil for the Perfect Cooking Experience
By Jennifer Hill Booker
Imagine the aroma of fresh Georgia vegetables like sweet corn, crunchy peppers and spicy onions, being sautéed in a hot pan drizzled with oil. I know you're thinking, 'she must be talking about olive oil.' Well guess again. I'm talking about Georgia pecan oil. It's full of antioxidants like vitamin E and flavonoids, it's high in protein, but also in oleic acid-which is the same type of healthy fat found in olive oil, and as an added bonus is bursting with flavor.

When placed side by side with olive oil, Georgia pecan oil comes out the clear winner. It contains 9.5% saturated fat, which is less than in olive oil, is rich in monounsaturated fats, and low in saturated fats. Although pecan oil is nothing new in the word of healthy oils, it is new to most cooks. Pecan oil's mild nutty flavor is neutral enough to take on the flavor of whatever seasoning is being used with it, has a high smoking point of 470*F, and is versatile enough to use for frying, baking, and as the base for salad dressings, marinades, and infused oils. Making this Georgia grown oil the perfect every day oil to cook with.

To give you a little peek into how versatile Georgia pecan oil actually is, I'm including a Southern spin on hummus. Using black eyed peas instead of chick peas, cider vinegar instead of lemon juice, and-you guessed it-pecan oil instead of olive oil, this Black Eyed Pea Hummus will make you a believer:

Black Eyed Pea Hummus
Original recipe by Chef Jennifer Hill Booker
Yields: 5 cups

Ingredients:
2-14.5 ounce cans black eyed peas, drained and rinsed
1-14.5 ounce can chick peas, drained and rinsed
4 cloves garlic
1/2 cup pecan oil, I like Oliver Farm Pecan Oil
1/2 cup pecans
1/4 cup apple cider vinegar
1 teaspoon red pepper flakes
sea salt and freshly ground black pepper, to taste

Garnish:
1/4 cup chopped pecans
1 tablespoon chopped scallions
Pecan oil

Directions:
Place all of the ingredients into a food processor with the blade attachment.
Pulse for 2-3 minutes or longer for a smoother hummus.
Adjust taste with salt and pepper and additional vinegar, as needed.
Garnish with chopped pecans, scallions, and a drizzle of pecan oil.
Enjoy with pita chips, crackers, or fresh cut veggies!
Oliver Farm is putting Georgia pecan oil on the international culinary map
By Amy Carter

Georgia Grown Executive Chef Holly Chute introduces French chefs to Oliver Farm Pecan Oil from Georgia.
Whoever said there's nothing new under the sun never faced the prospect of spending $400 per day on fuel to keep a cotton picker running. That was the reality that propelled Clay Oliver to begin researching alternative fuel sources for his farm machinery.
"My initial thought was to make my own fuel," he said, but his research showed that the expense of doing so would far outweigh the savings.
Food-grade oils, however, were another story. In late 2012 Oliver purchased a cold-press and processed the seeds from a crop of sunflower seeds he grew specially for the cause to produce his first batch of food-grade sunflower oil.
"As soon as we tested it that sealed the deal," he recalled. "This would not be fuel because something that good deserved to be on a plate."
In the past two years, Oliver has expanded his selection of fruit and nut oils to include pumpkin, benne, peanut and the explosively popular pecan oil made from Georgia's signature crop.
"Georgia is one of the first producers of pecan oil thanks to Clay Oliver and his pioneer spirit to press nut and seed oils," said Holly Chute, executive chef for the Georgia Department of Agriculture's Georgia Grown program.
Beginning with the receipt of the Good Food Award in January, 2015 has turned out to be a pivotal year in Oliver's new endeavor.
Largely a one-man show until now, the demand for Oliver Farm oils and nut flours in general – and pecan oil in particular – has prompted Oliver's wife, Valerie, to give up her 16-year teaching career to help him produce, package and deliver their products to some 60 retailers. They're preparing to expand their sales to Farmers Markets this year, also.
Riding the wave of popularity foodies are lavishing on artisanal foods, Oliver hit liquid gold with his pecan oil, a relative newcomer in the cooking oil category that is particularly appealing to the healthy-eating crowd. Pecans are already certified by the American Heart Association as a Heart-Healthy food. Pecan oil, according to producers and chefs, is even healthier than olive oil, with a saturated fat content of just seven percent compared to 14 percent in olive oil.
"Being a nut oil, it is high in antioxidants and a very healthy fat," Chute said.
Because it is cold-pressed, Oliver Farm's pecan oil retains its golden color and the distinct nutty flavor of Georgia pecans, Chute said.
With a very high smoke point of 470 degrees, pecan oil can be used for frying and also sautéing, braising and even baking.
"I love to sear fish and chicken in it then finish in the oven," Chute said. "It is also wonderful for salad dressings and substituted for shortening in hoe cakes or cornbread."
Chute is such a believer in Oliver Farm Pecan Oil, she took it on an official Georgia Grown junket to New York City – where it is now sold in select stores – and on a personal trip to France, where she presented it to French chefs who have little exposure to pecans ordinarily.
Oliver Farm is a Georgia Centennial Farm located near Pitts in Wilcox County. It was purchased in 1903 by Daniel Henderson Watson, and Oliver and his brother are the fifth generation to own and operate the place.
"I take great pride in that," Oliver said. "Through the hard times and things that happen on a farm, my family managed to hold on to it."
With a growing appreciation for his cold-pressed artisanal oils – and the burgeoning following the uber-healthy pecan oil is gaining – a hundred more years of farming success don't seem impossible to achieve.
"So far we've just continued to grow," Oliver said, sounding at times as bewildered as he is proud of the farm's success. "Starting from zero, hopefully you continue to grow. You can't go backwards."
Learn more about Oliver Farm Artisan Oils at www.oliverfarm.com.

March 12, 2015 3:26 PM ETby Jill Neimark

Few dishes showcase Southern tradition more perfectly than a slice of pecan pie, with its dark custard filling and crunchy, nutty topping.
Sweet and buttery, the pecans that figure so prominently in that iconic pie are America's only major indigenous tree nut. They're native to the Deep South, where the long, warm growing season provides an optimal climate. And they're the third-most-popular nut in the U.S. behind peanuts and almonds, according to the Agricultural Marketing Resource Center.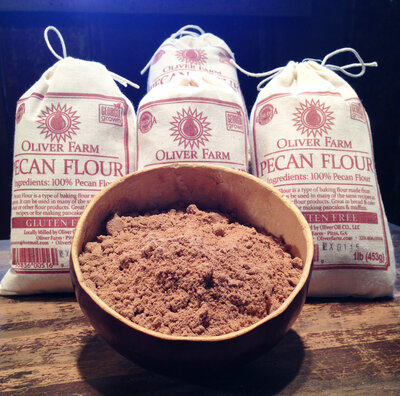 i
Pecan flour from Oliver Farm in Georgia.
With 10 million pecan trees producing over 200,000 tons of pecans in America today, the nut hardly needs bolstering. But recently, it has become the focus of experiments by Southern farmers, chefs and craft breweries. Inspired in part by the fast-growing farm-to-table movement, which sets a premium on local products, they are giving the pecan new opportunities to shine in the form of cold-pressed oil, gluten-free flour and even beer.
Toasting or roasting brings nut oils to the surface, and pecans are practically overflowing: 75 percent of the nut is pure oil. Compare that with the peanut, which is 50 percent oil, and the almond, which is around 45 percent oil. As with all nuts, roasting not only intensifies the pecan's flavor but also it adds to its richness.
At Oliver Farm, an award-winning producer of artisan oils in Cordele, Ga., Clay Oliver uses an old-fashioned screwpress to produce several thousand bottles of delicate pecan oil a year. He sells to Southern chefs, specialty stores around Georgia and online. "Pecans have that mysterious extra-something and an unforgettable flavor that renders the oil and flour delicious," says Oliver.
Native Georgia chef Steven Satterfield, a James Beard Foundation Award finalist in 2013 and 2014, uses Oliver Farm's oil for everything from frying food to crafting pecan pesto vinaigrette at his Miller Union restaurant in Atlanta. "I love traditional Southern food," he says, "but I want to experiment just enough to keep it fresh and interesting and new."
Oliver Farm's defatted, gluten-free flour has earned such a big following of Southern bakers that it quickly sells out. Dede Wilson's Bakepedia, a baking and dessert recipe website, offers a recipe for pecan flour buttermilk pancakes with an added drizzle of pecan oil. Georgia chef Jennifer Booker, author of Field Peas to Foie Gras: Southern Recipes with a French Accent, uses the pecan oil in traditional southern shrimp and grits, and for sautéeing collard greens.
i
Lazy Magnolia's Southern Pecan Brown Ale is produced in Kiln, Miss.
Courtesy of Lazy Magnolia
But perhaps the most surprising new venue for the pecan is a craft beer called Southern Pecan Brown Ale, produced by Lazy Magnolia Brewing Company in Kiln, Miss. Founded by husband-and-wife team Mark and Leslie Henderson, it's the state's first brewery since the Prohibition.
"Our pecan ale is our flagship beer and the first one in the world made with whole roasted pecans," says Leslie Henderson. The beer won a Bronze Medal in the 2006 World Beer Cup and is now available in 17 southern states. "We were initially worried the oils would kill the foam on our beer," says Henderson. "But the pecans ferment just like a grain and provide nuttiness and flavor unmatched in other beers. There's still a lot of hops and malt, but the nutty flavor shines through."
What inspired the beer in the first place? "Comfort foods like pecan pie and pecan pralines give us that old, charming, Deep South romance," Henderson says. "We wanted to hearken back to that hospitality yet create something new. Our beer is complex but really approachable."
Pecan pancakes and beer for breakfast, anyone?
Jill Neimark is an Atlanta-based writer whose work has been featured in Discover, Scientific American, Science, Nautilus, Aeon, Psychology Today and The New York Times.
---
Oliver Farm Infused Sunflower Oil is a 2015 finalist in the Flavor of Georgia Contest

Click here to see a list of all the 2015 Flavor of Georgia finalist
---
Savor the Good Life - Oliver Farm

---
The Georgia Farm Monitor:
South Georgia Family Farm Produces High Quality Artisan Oils
---
Clay talks with WALB about his Artisan Oils & Flours
Be sure to check out WALB and their Georgia Farm Monitor sunday mornings at 6:00am
---

ANNOUNCING THE 2015 GOOD FOOD AWARDS FINALISTS

206 Finalists Hailing from 46 States
San Francisc0, CA (October 22, 2014) - The Good Food Awards are proud to announce the
206 Finalists of 2015, representing the best from America's growing movement of talented and
socially conscious food entrepreneurs. From Louisiana Swampflower Honey to Georgia Pecan Oil
to Colorado Umeboshi, tasty, authentic and responsible food is being crafted in every part of the
country. This year's 1,462 entries—the highest number yet—exemplify the country's diverse and
deep-rooted food traditions. Chosen from amongst the 206 Finalists, 150 Good Food Award
Winners will be announced January 8, 2015, at a gala in the Palace of Fine Arts in San Francisco
(limited tickets available, $120 here). The awards themselves will be bestowed on each winner by
renowned chef and activist Alice Waters, who helped launch the Good Food Awards five years
ago.
The Finalists emerged from a one-day marathon judging session September 7 in San Francisco at
the Impact Hub San Francisco, when 180 chefs, retailers, food writers, farmers and food crafters
sampled entries from the 11 categories of beer, charcuterie, cheese, chocolate, coffee, confections,
honey, oils, preserves, pickles and spirits (including new subcategories for cider, kombucha,
yogurt, cocktail modifiers and preserved fish). The top taste scorers were further vetted to
confirm environmentally sound agriculture, good animal husbandry, transparency, and fair
treatment at all stages of the supply chain. The record number and range of entries reflects the
vitality of the Good Food Movement and demonstrates the power of ethical, sustainable food to
sustain communities and support local economies.
"It was not easy to make it onto this list," says Sarah Weiner, co-founder and Executive Director
of Seedling Projects, the 501 (c) 3 behind the Good Food Awards. "The quality of entries increases
every year, and even amongst the highest scoring, nearly two dozen entries didn't quite meet the
high bar we set for sustainability. The 2015 Finalists are truly the leaders in their fields,
epitomizing taste, authenticity and responsible production."
The Good Food Awards are proud to announce a new Presenting Sponsor this year, the Good
Food Retailers Collaborative. Composed of ten of the country's top independent retailers from
Brooklyn to Chicago to Philadelphia to Salt Lake City, they are united in their commitment to
supporting America's great food producers both in their own communities and across the country.
Joining them is a vibrant group of key supporters, including five-time Premier Sponsors
Williams-Sonoma and Bi-Rite Market; and Lead Sponsors Dominic Phillips Event Marketing,
CUESA, Impact HUB Bay Area, Veritable Vegetable and the San Francisco Ferry Building.
The Awards Ceremony on January 8 will be followed by the new Good Food Mercantile on
January 9, a first-of-its-kind trade show where past and present winners and finalists will have
the opportunity to exhibit their wares to an anticipated 350 industry buyers. The public Good
Food Awards Marketplace ($5 at the door, $16 early access VIP tickets here) and Beer & Spirits
Garden ($16, tickets here) will be held on Saturday, January 10 at the city's historic San Francisco
Ferry Building. There, the 150 winners will offer samples and sell their products alongside the
hallmark CUESA farmers' market, the largest in San Francisco.
See the Awards Ceremony and the Good Food Awards Marketplace details here.
Delicious Stories from Every Region
The Finalists offer a snapshot of how food makers are revitalizing old traditions and crafting new
ones throughout the country. Highlights include:
ï'· Our new honey category brought in a sticky rainbow of entries from flowers we didn't
know bloom on our shores. Our judges' favorites included New York State Black Locust
and Buckwheat Honey from Bees' Needs, Japanese Knotweed Honey from Bedillion
Honey Farm in Pennsylvania, Sourwood Honey from MtnHoney in Georgia, Sonoran
Desert Bloom Honey from AZ Queen Bee and North Dakota Wildflower Honey from
Kloten Apiaries.
ï'· Brewers are moving beyond fruits and herbs—it seems the latest trend for flavoring brews
is native trees! Pennsylvania spruce tips and California manzanita lent flavor to topscoring
beers from Philadelphia's Yards Brewing Company and San Francisco's own Fort
Point Beer.
ï'· A new subcategory of preserved fish this year brought in new charcutiers working with
sustainably sourced, delicious fish, including troll-caught Wild Albacore from
Washington's Island Trollers and Garlic and Olive Oil Preserved CA Anchovies from
FISH.
ï'· Mixologists across the country rejoice! This year's tasting featured a bumper crop of
seasonal, responsibly crafted cocktail modifiers, from North Carolina's rosemarygrapefruit-
peppercorn Crude Rizzo Bitters to a Three Chile Syrup from Royal Rose Syrups
in Maine to a Spiced Peach Shrub from Republic of Jam in Oregon.
ï'· Spreadable meats are everywhere. Our judges loved Formaggio Kitchen's Tongue and
Cheek Terrine from Cambridge, Mass., the House Pâté de Campagne from Virginia's JM
Stock Provisions, Wooden Spoons' Rabbit Rillettes from San Francisco and Market Hall
Foods' Chicken Liver Mousse from Oakland.
About the Good Food Awards
The Good Food Awards celebrate the kind of food we all want to eat: tasty, authentic and
responsible. Good Food Award Winners will be announced on January 8, 2015 in San Francisco.
On January 10, 2015, Good Food Award-winning products will be showcased at a 15,000-person
public marketplace in collaboration with the San Francisco Ferry Building and the CUESA
farmers market. The Good Food Awards Seal, found on winning products, assures consumers
they have found something exceptionally delicious that also supports sustainability and social
good.
Seedling Projects 501 (c) 3 organizes the Awards in collaboration with a broad community of food
producers, chefs, food writers and passionate food-lovers. It is led by Sarah Weiner and Dominic
Phillips, who have united their diverse skills to support the Good Food Movement. Through
focused events and strategic models, it engages the public in finding better ways to feed our
communities. Find more information